Handy Backup 3.9 Help : User Interface
Settings : Log Settings
---
The tab allows you to view or modify the following log settings.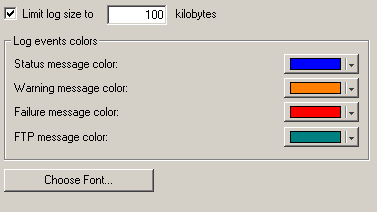 Limit log size to ... kilobytes: When log file exceeds the specified size, the Log View will be cleared and log messages will be displayed from the beginning. The recommended default value is 100 kilobytes.
The large size of log file (exceeding 100 kilobytes) can cause problems in program operation. The program may freeze up unexpectedly, not allowing you to change your backup settings or set new scheduling settings, though Handy Backup agent is still running. In this case, we advise to delete "logs" in "\Documents and Settings\\Application Data\Novosoft\Handy Backup", to check "Limit log size to 100 kilobytes" option and then run Handy Backup again.
Log events colors: You can see and customize default colors of log events.
Status message colors - the color of program status messages
Warning message color - the color of program warnings messages
Failure message color - the color of program failures messages
FTP message color - the color of FTP messages
Choose font...: Allows choosing font of log messages and its size.