Handy Backup 3.9 Help : How To Operate With Data
Restore Data : Specify Index File
---
This window allows you to specify an index file from which to restore your data. It can be at a local machine, LAN, CD or a remote FTP server.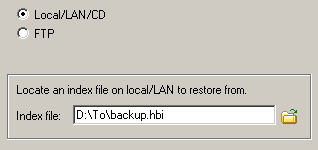 Press either "Local/LAN/CD" or "FTP" radiobutton, then browse for folder containing required backups and index file. To read more about browsing for folders on Local, LAN or FTP server, see Select Destination topic for Backup item.
There are two types of index files used in Handy Backup 3.9 - backup.hbi and spanXXXX.hbi (in case you backed up your files on CDRW), where XXXX is a hexadecimal number of span
Restore from CD
If you used disc spanning, you should insert all your discs with backup into your CD device one-by-one.
Note that Handy Backup operates in such way that every disc from your span contains all necessary information about files on that disc, that is, any disc is sufficient for restoration of files kept on it. However, if a certain large file was fragmented and written on several discs, in order to perform restore of such file, the program needs to scan all discs.